Who We Are
---
The death of someone we love or care about is a life-altering experience and often changes us on every level. People come to realize that they will never be the same person they were before. Once grief enters our lives, it becomes a part of our lives—not in the same intensity or form as it is in the beginning, but, as we go through life, we find that our grief for that person or over that experience is there, and we see how it changes as we change. This is referred to as creating a "new normal" or "rebuilding life." For instance, for some, in the first year, they are unable to look at a photo of their loved one without feeling pain; yet, as the grief journey continues, they find that the same photos make them smile. One does not "get over" losing a loved one, but rather eventually learns how to incorporate not only the grief but also the person into that new life, creating a new relationship with him or her that is no longer about his or her body. That takes commitment, self-compassion, education, and grief tools.
That is where griefHaven comes in.
griefHaven (aka The Erika Whitmore Godwin Foundation) is a 501(c)(3) nonprofit foundation dedicated to providing grief support and education to those who have loved and lost, those who want to know how to support someone who is grieving, and professionals who work within the arena of death and dying.
About Our Founder
---
My name is Susan Whitmore, and I am deeply sorry for your loss. I, too, know the pain of losing someone I love. You see, in 2001, my only child, Erika Whitmore Godwin, 31 years old at the time, was diagnosed with a rare sinus tumor. One year later, despite every effort, Erika died. The painful and difficult journey I began exceeded anything I could have imagined. Only with dedication to my own grief journey, and the love and support of friends, was I able to make it through each day.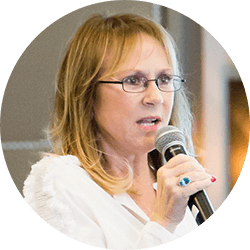 As I began my personal journey, I discovered there were many support tools, but they were scattered everywhere, and finding them was a painstakingly arduous process. Most of the websites talked about their own organizations and what they offered. I needed one place where I could learn about a variety of support tools available and, ideally, what other people who were grieving found worked. It was then I decided I would put together that website—a true "grief haven"—where anyone in need could come and find all that was available. I envisioned "stuffing" that website with every imaginable item that could possibly help anyone anywhere, and to continue doing that through the rest of my years.
So griefHaven was born. It's a private hideaway for you. This is one place where you will find an enormous variety of currently available support tools—a foundation from which you may start rebuilding your life. This is your haven, and it is through your ideas, input, sharing, and participation that we will continue to grow and upgrade this site. So please let us know whenever you hear about anything that we should add.
Initially, my prayer was that griefHaven would eventually circle the globe so that no one was ever alone, no matter their loss. Today I am happy to say that griefHaven receives over a million visits a year from all over the world! That's a lot of hope!
Mission Statement

Provide unique, effective, and current grief support tools to all who lose a loved one;
Educate the public about grief in general, including the unique aspects of the grief journey, and provide the public with current information and tools in how to support those who are grieving in the most loving, healthy, and effective ways;
Educate and collaborate with professionals whose careers deal with grief;
Align and work closely with grief researchers who are looking to better understand grief (for example, using fMRIs to research the grieving brain), and then impart that information to others;
Provide ways for everyone to honor their loved ones; and,
Maintain a positive and nurturing work environment that ensures that griefHaven's in-house work is suffused with the same hope, love, integrity, and compassion that it shares publicly.
Susan Whitmore
Founder and CEO
---
BS/BM (Hons), CGC
Steven Carr Reuben
President
---
Ph.D. Rabbi Emeritus Kehillat Israel Congregation
Wendell Whitmore
Vice President, Operations
---
BA/EL(Hons), CTC/En/Se
Pam Solomon
Vice President, Finance
---
---
Beth Abrams, Esq.
Secretary
---
Didi Carr Reuben
Trustee
---
Sharon Smiley Lusk
Trustee
---
Bruce Lederman, Esq.
Trustee
---
---
Brad Lusk
Trustee
---
---
Jack Canfield
Co-Author Chicken Soup for
the Soul© & Success Principles®

Marlene Canter, Chaplain

Kathleen Cone, MFT

Roger Dafter, Ph.D.

Judith Ford, M.D., Ph.D.

Hillary Goldsher, Ph.D.
Lori Gray, Grief Counselor

Deborah Harris, Chaplain, MSW

Michael Josephson
Founder, Josephson
Institute of Ethics
Character Counts, KNX Radio

Marc and Violet Klaas
Founder, President, KlaasKids

Denise Mandel, Ph.D.


Wayne Neiman
Studio Executive

Richard Riordan
Former Mayor, Los Angeles
Attorney at Law

Anne Roberts, Attorney at Law
Attorney at Law

Graham Woolf, M.D.,
and Jennifer Woolf


Beth Abrams, Head Council
Jewlz Fahn
Lauren Fite
Gaby Kirshner

Caryn Marshall
Lauren Schiff
Pam Solomon
Melanie Speiser

---
Order griefHaven Brochures
The path of grief changes with hope. Order griefHaven brochures.
Order Free Brochures
More griefHaven Resources
griefHaven has many resources to help you through the grieving process. Check out our resource page for more.