Susan: Did you always want to be a writer?
Shana: I don't know how I could not be a writer. It feels like something I need to do, even though the process is always painful for me. Writing "The Greatest" was a very painful process. I kind of fall in love with the characters I write, and I want to take care of them and make sure they are taken care of.
Susan: You wrote the screenplay and you directed it. What attracted you to taking a risk of doing such an honest story about the death of a child?. Most people don't take risks like that.
Shana: I think it was all of the personal stories from parents that I had read about that really intrigued me about the grieving process, and I wanted to write roles that I thought actors would really respond to and want to play. Grief is a human emotion that takes you to so many different places that I feel include really beautiful places, and it would give actors the chance to play unique, honest roles.
Also, I told you earlier that my Father lost a son before I was born, and I am 34 years old. He told me about my brother only one time while we were driving in the car to Texas. He said, "You would have had a brother," and he told me how he died, when he died, and that was all he ever said to me about it.
Sometimes you write something, and you don't know why you are writing about it until after you have made the movie. I was watching the movie in Sundance, and I said, "I think I figured out why I made this movie. I think I made this movie so I could actually talk about grief." Because it's a way for me to understand my father and understand how it changed his life. And I think that is a big part of why I did the movie.
Susan: Was it cathartic for you, too? How did it affect you and your life now?
Shana: It was cathartic because I felt as if I could understand my Father a lot more, and I have a lot more empathy for his experience and learned there is no right way or wrong to grieve, because everyone grieves so differently. The way he chose to grieve was his way of grieving, and I could never judge that. It helped me understand my Father better.
Susan: I'm wondering if you had known what you know now if you would have done things differently in your relationship with him--that maybe you might have said, "Tell me about my brother."
Shana: It's still a scary thing to even talk about with my Father. Even after he saw this movie at Sundance! I made this movie about the grieving process and a family, and I thought maybe this is going to be a good opener for us to have some more candid discussions. Even when I brought it up after he had seen the movie, my heart was beating really fast and I still felt it was this thing we really could not talk about yet--that he still wasn't ready to talk about it, so I have to respect that.
Susan: What about your Mom?
Shana: It was a different mother. They got divorced shortly after.
My Father comes from a family of three sons. His youngest brother is a multiple Ph.D. scientist, his older brother is a multiple Ph.D, OB-GYN, and my Father has made a very different life choice. A lot of that happened after his son died. It definitely dictated who he was and who he was going to be in this world, and I think he's been running from that for a long time. He' struggled with the law, and he's struggled with maintaining personal relationships, and it deeply affected who he became after he lost Mark, my brother.
Susan: To write a script and direct it takes a strong desire, so you were obviously very motivated, and this is obviously a very serious subject. What was it like for you when you were writing the script?
Shana: Writing the script was very emotional. Brian knows this. He would come home from work, and my eyes would be red because I had been crying all day because I was reading so many books about personal stories and listening to Gloria's radio show religiously. Also, when you are writing something like this, you have to put yourself in the character's mind. In order to do that honestly, which I felt there was no other way to do it than that, I had to be Susan (the mother), and I had to be Allen (the father), and I had to try to understand what it would be like to lose a child, although I would never, ever, ever be able to literally understand that pain and what that would be like. But I had to try and go to those places. It was a very emotional four or five months writing the script on my own and bonding with all of these really great people who are telling their stories about losing their child and feeling like I was almost co-writing with them because they were giving me so much.
I remember listening to Gloria's show, and there was a therapist on the show who said, "Something that's good could be ringing a bell when you miss your child." I thought, "That's really interesting--a bell. Okay, if I were a mother, and I had just lost my son, and my husband gave me a bell and said, 'Here, ring this bell whenever you miss our son,' I would want to say, 'F you!' and I would ring that bell all of the time." So I thought, "What would I do if I had that bell? But then what would the bell mean later? Maybe it is a beautiful thing and maybe there would be a point where I would want to ring it later. Maybe that would be a healthy thing in our family." That's what I thought, so I really did feel as if I were co-writing with families and reading all of these books and personal testimonials really inspired me. But it was a really painful process writing the script.
Susan: And how did it affect your husband, Brian?
[Laughter from Shana and Brian]
Shana: I don't know. He's so sympathetic; he's so empathetic. He was completely supportive, and when he'd come home after I had been crying all day he would read something I wrote and say, "It's really beautiful." He was completely supportive the entire way through this process.
At Sundance when we screened my movie for the first time Brian was sitting next to me, and I was shaking and so nervous the whole time. I looked over at him, and he was shaking because he was crying so hard the whole time.
Susan: You were so proud of her.
Brian: Yeah, yeah. Beyond proud.
Susan: That kind of love is so special. Not everyone gets to know that kind of love. Has it affected you thinking about whether you want to have children or not?
Shana: Yes. Sometimes I get really scared that the reason I was so attracted to this material was because I was somehow preparing myself for something that might happen to me later. [starting to cry] It's such an irrational fear, I know, but I was scared of that. I was thinking, "Is the reason I did this whole process so that if I lose a child I'll think, 'Thank God I made this film?' or am I somehow letting this into my life in a certain way . . . you know . . . [tears up]?" That's just a fear that you have. Rationally, I don't think that's true at all.
Also, it just terrifies me, because I know that there is nothing--I've just seen this pain, and I know that there is nothing that would ever hurt more.
Susan: It's the one thing that you never want to go through. And when you are in it you really want out. It's hard to teach yourself to be in it until it releases naturally and not fight it. It's hard to impart that to parents and the others around them who want to see that the person stops crying. It's natural, organic, and necessary, but it sucks.
One of the things I ask parents and that I get them to talk about in support group meetings is if they ever wish they hadn't had their child because then they wouldn't have the pain. You know, have they ever even had that thought for one second. That's one of those hard things to admit, but it's only perfectly human to have that thought, even if just on some fleeting basis, when the pain is beyond anything you ever imagined being able to survive, little alone go through another day. Of course, ultimately all parents say they wouldn't give up having their child for any amount of pain--that all of "this" pain is not greater than what they received from the years with their child.
Wendell: That kind of irrational fear is not unusual. A lot of people don't want to be around bereaved parents. It's almost like unconsciously they are thinking you are contagious or they will catch it. That makes the journey so much lonelier and harder. Parents have been left behind by their child who has died, and then abandoned on so many levels by family members and friends, too.
Susan: Can you talk a little about your vision when you were writing this script? What did you want to impart to people about grief, the death of a child, resiliency, etc.?
Shana: One kind of common thread when doing my research was parents who said, "How am I even going to survive this day?" and then seeing the benefit of groups for newly-bereaved parents when they join a group. It's just seeing all of the faces that are there and that they survived and that they can survive each day. I would think that that would be the hardest thing, just picturing yourself being there the next day.
So I wanted to tell a story about a family who survived this, and not that they have a happy, shiny bow on them and they are all fixed or healed or any of that, but that they are still in pain and they will be in pain for the rest of their lives--that this experience has changed all of them, but they are there in their lives, present for each other, and they have survived this and are going to be there the next day and the next and the next. I wanted to show a family that came together instead of dissolving.
Susan: Which is the way it mostly is--coming together.
It's a myth that most families or marriages break up and dissolve after the death of a child. No one can figure out exactly how that myth got started, but it's absolutely untrue. Most families go on to be stronger and more loving than before. A lot of it depends on how they deal with the pain, what they do as a family, etc. They need help, I know that for sure. People who try to do it alone--yikes.
I can tell you in my own marriage that our love [touches Wendell] has a depth to it that happened a while after Erika died, especially once we started allowing the other person to grieve his or her own way and started educating ourselves about what was happening to us.
We've always had a good relationship--we've had our ups and downs like any couple does--but this experience led us to places that were dark and desperate and also beautiful and wondrous, and it will for the rest of our lives. It hasn't been easy, and it will always be our lifelong challenge to live a meaningful life without Erika. We know that life will never be the way it was when Erika was here, and we also know that doesn't mean that life will be bad.
Okay, next question. You've already talked about your dad and how that impacted your experience of writing this script. But what other things did you bring to the film that impacted your decisions?
Shana: My experience as a nanny helped in writing this film because my main job, other than what I'm doing now, has been working as a nanny for the last ten years. When I was actually writing this story, I was taking care of a three-month-old baby. When she was taking a nap, and I was holding her on my lap, I would bring my journal to work and write scenes for the movie. Holding her and feeling this incredible amount of love for her and the pain of thinking what would happen if anything ever happened to her were very moving for me. In fact, I named the little girl in the movie Ruby because her name was Ruby and because she was a very important part of me writing this script. She was my little muse.
Brian: The fascinating part for me was that almost everybody involved in this film has lost someone. The producer lost a brother, the person who is releasing the movie lost a son, and Pierce had the experience of losing his wife. I was fascinated by this because it's not talked about a lot, and it was amazing to see how many people who were intimately involved in the making of this movie had also lost someone.
Susan: It's all around us, isn't it? What I say about griefHaven is that, 'We need to give grief a voice.' That is why we call it "grief" and "haven""where hope resides."
Wendell: That is why we are hoping your movie will be widely watched because it really could make a difference in people being more open about their grief.
Shana: I work-shopped this movie in a directing class I had taken, so every Tuesday night we would do a new scene from the movie so I could start honing my skills as a filmmaker and working with actors. It was always such a surprise to me when people would come up to me afterward in the class and say, "Oh, well, you wouldn't have known this, but I lost a brother when I was 15 years old." And I would say, "No, I've known you for three years, and I didn't know that. How could I not have known that about you after three years?"
It was only after I had written this and we had done this script in class where they felt safe enough to approach me and say, "This is something you didn't know about me, but . . ." It always surprises me what I learn about people--things they had never told me. I was shocked to see how many people I knew intimately who were grieving.
Susan: That's why we have the grief pin. We are the only country who doesn't have some way of showing that we are grieving. And grieving is as normal of a reaction to loss as coughing is to something in your throat. No one would say when you are happy and crying that you shouldn't cry, but when you are crying sad tears they say, "Oh, don't cry."
You shared with me while we were eating that you fought to get this movie made. You told me that you were actually thinking about shooting this for bereaved parents. What was the fight about?
Shana: What we were just talking about. People would say, "This is such a downer, so why would we want to see something about grieving parents?" When we were first marketing the movie, they said, "Stay away from grief. Say this is a love story between two young kids. Don't use the word 'grief' when talking about this movie, and don't say you were inspired by the movie "Ordinary People" and that you liked that movie. We have to disassociate ourselves with the grieving process and let people know that that isn't what this movie is about." I said, "It IS what this movie is about. This is the story I wrote, and it IS about grieving parents. I think it's a beautiful journey, and I don't think it's a bummer to watch." That is what I said. Of course it's going to be sad, but I didn't write it to be a bummer to watch--I wrote it to show hope. So THAT was a fight.
You see, it's hard to get movies green-lighted that are about heavy emotional journeys. People want to go to the movies to be entertained. It's a lot easier to get a horror movie made than this movie. What's really interesting is that some of the critics who have seen "The Greatest" have said that this movie has already been made before. They say, "We've already seen a movie about grief. They did it with 'Ordinary People'." Yet there are hundreds of movies about bank robberies, hundreds of movies about serial killers, and there are a hundred more movies that could be made about grief! I could write seven other movies just with the research I did. There are several other stories I could tell. There is such a resistance about this subject. I am sure you guys encounter this, and I am encountering it in the cinema world.
Susan: Wendell and I would disagree with them that it hasn't been done to the extent as accurately and completely as you did it. The other movies don't take it the whole way. They are not thorough and do not show the entire range to hope or redemption as part of the grieving process.
I really think that is something unique that you have done for the first time. As a grieving mother, I have been on this journey a long time, and I've seen those movies they are referring to. I can tell you that "The Greatest" has never, ever been done before.
You know, "Ordinary People" was about a family falling apart, and the mother blames her other child for the death of her son. That's such a teensy percentage of people who have lost a child who act like that. Also, the movie ends with the parents splitting up, and that is also a very small percentage. So even though people talk about that movie in reference to all other bereaved parent movies, it is not a realistic movie--it's an amazing movie for sure--but it sends the wrong message to people who are desperately look for hope.
So what did it take? How did you finally get somebody to finally make the movie?
Shana: It was Pierce Brosnan who read the script and said, "I love this role, and I want to play this man. This is incredibly truthful, and he goes on this emotional journey, and I believe in it, and I want to take this risk." And it was a big risk to do with a first-time filmmaker. He doesn't have to work with a first-time filmmaker. Pierce Brosnan can work with Oscar nominated filmmakers. But this story was really important to him. Once you get an actor like Pierce, it becomes commercially viable. It got the movie made.
Susan: Now I love Pierce more than I did before, which was quite a lot. I know he produced the film through his company Irish Dream Time. I read that, when Pierce first read the script, he threw it under the bed and said, "I don't want to go there. I don't want to dig into the sense memory of losing a son." I remember reading about Pierce's son and the terrible accident that almost took his life, so I can understand his reluctance. I read that, after the script stayed under the bed for a while, Beau St. Claire, his production partner, suggested he read the script again, and that is what he did, then deciding that the story had to be told. I read that Pierce said, "My expectations were to make something that was a study in grief—that would have some cathartic healing power and be entertaining as well." Well, you sure did all of that! So you must have been so excited when you found out that Pierce was in.
Shana: God! So excited.
Susan: How did you get the script to him?
Shana: Brian got it to Beau, Pierce's producer.
Susan: How did you choose your cast?
Shana: I knew Pierce had never played a role like this before, and I felt that he's an under-utilized actor. I knew that he could handle this role based on his personal experiences, that he's incredibly talented, that he has this right blend of masculinity and vulnerability, so I knew he would be perfect to play Allen.
And Susan . . . l could not believe that we got Susan Sarandon. It was absolutely amazing. That role was cast so perfectly. She was amazing. She really wanted to work with Pierce. They had never worked together before, so that was a great partnership. And with Carey's [Mulligan] role we literally saw almost every young actress in Hollywood. Every young actress in Hollywood wanted this role. It was right after "Juno" had come out. So we auditioned so many girls for this role. Carey--no one knew who she was. She was just a name on our casting sheet. When she read with me for the first time, I knew there was something very, very special about her because she did her homework and she found the subtext in this role, which a lot of American actresses wouldn't, since they often think that preparing for a role is just memorizing lines and then they go in and audition, but Carey had really done her homework.
Eventually, the part of Rose that Carey ended up playing came down to two actresses: Carey was one of them, and we were going back and forth because we were all in love with Carey, but there was this other young actress we had all fallen in love with as well. I had a dinner party with 12 of my good friends, and some are in the industry, and some are not. I said, "I want everyone to watch these two auditions, and no one say anything, just put a name down and put it in this hat, and that is how I'm going to cast this role." So we watched Carey's audition, and we watched this other audition, and no one talked. Everyone just wrote a name. I took the hat out, and I read the names, and there were 12 people for Carey Mulligan. Hands down, everyone fell in love with her. There is something very relatable and honest about her. She really understood this role.
Susan: And then she got nominated for her role in "An Education." Your timing couldn't have been better. Is she British?
Shana: Yes, she is. And Aaron who plays Bennett, the son who dies, is British as well, so he was doing an American accent as well. He is having a moment as well. He's about to come out in a movie with Nicolas Cage called "Kick Ass," and he played John Lennon in "Nowhere Boy."
And then there is Johnny Simmons.
Susan: Is he new?
Shana: He is. He's just starting out in his career. We had cast the role and were just about to make an offer to someone that day when someone's agent called and said, "Wait, there's one DVD to see. This guy is on location, he read the script and put himself on tape, so could you just watch this before you make any decisions?" We watched it, and I said, "Wait a minute! Don't make the other offer." We cast Johnny based on that tape he sent in while shooting in Canada.
Susan: So many siblings are going to get so much out of watching this. He was wonderful in his role. Just fantastic! How did the actors prepare to play their roles?
Shana: Everybody was different.
Johnny, who played the brother who survived, lost maybe 10 or 15 pounds for the role because he wanted to go method and experience what it would be like to have such a significant loss and how that would change his body and the way he would look. When I saw him when we were about to shoot in New York I said, "Johnny, what happened to you?" He was pale and thin and it had taken its toll on his body.
Then there was Susan [Sarandon] who has such an incredible mind to dig from. I mean that well is--she is just very--Susan when she meets you, and I hope you guys meet--is extremely empathetic. She is so in tune with the pain of other people that I feel like that is all she needs, as she is inspired by the other people around her. With Pierce, a lot of his preparation was already done because it's based on his life experiences, which he used in this role.
Susan: With regard to Carey's role as Rose, how did you decide to add this quirkiness of who she is and her life in the midst of all of this fuzziness of grief and pain and sorrow? I mean here comes this little bright light who is very quirky. Where did that come from?
Shana: I think she is little bit like me. I wrote a lot from my heart, and she's probably most like me than all of the other characters.
I spent some time going to some meetings before I did the film, and I was always surprised at how much laughter there was in those meetings. People would tell funny stories about their kids, and I remember at my first meeting I was thinking, "Oh my gosh, I am going to be crying during the entire meeting. I don't know how I'm going to do this. It's going to be so emotional." And I was crying, and it was emotional, but I was also laughing through a lot of it. I loved hearing the stories and seeing peoples' faces light up when they were talking about their children or their siblings, so I wanted to include that as part of the experience, because I know when I'm the most sad, I laugh through hard times. That's one thing my dad taught me to do--that even in adversity you are still finding the humor and you still have to let yourself have that in life, and I wanted to let that into this film.
Susan: You know, that is just how our lives are. We don't sit around all of the time sobbing and being sad. Well, in the first year we do, but eventually we don't, and it doesn't consume every minute of every day in the first year either. There is no way we could survive it if it did. So it was more like real life that way. How did the relationship between you and the actors change and evolve as you were filming this deep, heartfelt movie?
Shana: I think it was a level of trust that started to happen among us that was really important, because they were making themselves so vulnerable, and they were going to such dark places within themselves, so we really needed to trust each other.
Towards the end they were so "in" the story that I didn't really have to direct anymore. Sometimes before a take I would just touch Pierce and say, "Okay, are you ready?" And we would share a touch, and he would say, "I'm ready." We developed something akin to a form of shorthand in our communication. It was as if we were saying, "This set is a safe place; it's safe for you to feel whatever you are feeling." And that was the key to setting the tone and getting the performances--making sure that everybody felt safe and that they could trust me. I was also very honest and very vocal about why I was making this film and how important it was to me. I didn't hide any of my emotions.
I am a very emotional person. That's one thing that sometimes happens to directors when they are directing a film--they feel they have to be more hard, they have to be a little more jaded and that you cannot let things effect you as much as they really do. They feel they have to toughen up because you are a female director. That is so not me! I told them how important it was to me while making this film and my emotional connection to the story and to the characters. I told them, "I'll be crying a lot and you'll be crying a lot and that's okay, so let's take this journey together." I think that made a difference.
Susan: And look what you did by doing it so honestly and so bravely, because it's a scary place to go when you don't have to.
See we've been forced to go on this journey and be in those places, but you are choosing to go there. What you've done--and please don't you or any of you in this film or on this set ever forget this--is, in your own way, helped and supported so many people. You have no idea the impact this will have forever. You are giving people permission to make grief okay. You are going to teach people who don't know what to say or do or who forget about us because they can't handle it that what we are going through is something that requires their understanding and support forever, not just after whatever the "event" was that got us here--that we need them in our lives.
We don't want to keep hearing stories about people being abandoned because they lost a child. It's so awful. That's what you've done by following your heart and not backing down from the truth--given us hope and support and a way we can say, "Watch this movie, and it will help you and me."I often think, "If I could just show the last eight years of my life on film and show it to the people I love and in my family, it would make such a huge difference." Everyone tells stories about their own family members abandoning them or at least not providing them what they need as they make this journey. It's so sad.
Are you any one of these particular characters in this film?
Shana: In order to write the characters, you have to be all of them. They all show different ways that I might grieve if something like this happened to me. Sometimes you write from one character the most, and I was introduced to this family through Rose, so there was a lot of me in her reacting to this family.
Susan: And what was it that inspired you to have Pierce go along with Rose to the party and the day and evening they spent together just sharing life?
Shana: I just felt like that was the most important thing within his character that he needed right then--someone like Rose at that moment in his life. I also thought it would be a very interesting dynamic, because there was nothing sexual about it; it was just an unlikely friendship that happened when he needed it the most. He didn't realize how much he needed it until she came into his life and started talking about his son. That was the one person he wanted to talk about--his son. It was kind of like a gift I gave him by giving him her character.
Susan: That's beautiful. Can you tell us some of the funny moments while making the film?
Shana: Everybody got along really well, and everyone supported each other while making this movie. We were like our own little family, and we became each others' support systems through this experience. I'm trying to think about the times when we were really laughing. Because I feel like the process would be very much like our lives. You are immersed in grief, but you have these moments where somebody in a support group will say something to somebody else, and they all just start cracking up.
Brian: I will say that Johnny was just like a total ray of light throughout the whole thing, and he kept everybody in really high spirits. There were his reactions and interactions that kept people laughing at times.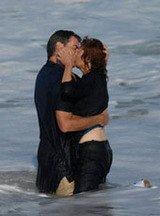 Shana: There were the pressures and reality of doing a movie like this independently, like when Pierce threw Susan in the ocean . . . we could only do it once because we didn't have time to dry her off, change her clothes, and have them do it all over again, so we said, "Okay, this is going to be our one chance to do this shot." That was pretty funny watching that all unfold. You know, he had to throw her into the ocean, and we were all laughing right up until the time he did it AND crossing our fingers.
Or that car accident. We got that car on E-Bay for $3,000. We had four cameras set up, and we knew we could only do it once. In Indy filmmaking, you cross your fingers a lot and hope everything goes according to plan. Luckily, it did.
That car accident was another really scary thing no one was prepared for. The whole time we are talking about the moment when Bennett would actually die. Shooting that car accident was very emotional for people on the set. We were all saying, "No, this is really exciting. We are doing this stunt. This is the car crash." We had our stunt drivers and the dummies in the car, but there was something else that filled the air when that actual crash happened. When that accident actually happened, it took our breath away! Once it happened, it was really silent on the set and more emotional than we had prepared for.
Susan: Which is how it is in life for us. There are those moments--and I call them Erika attacks--that come out of nowhere. You just don't expect them--just some little moment you aren't expecting. Like when I was driving down Sunset a month ago and the song "Grease" came on the radio. That was one of Erika's favorite movies, and she loved all of the music. She thought that movie was so much fun, and whenever that song would come on she would get really silly and start acting like Olivia Newton John. So as soon as that song came on, like Pavlov's dog, I immediately saw Erika dancing around, acting silly, singing away, and I just burst into tears. Just driving along, having a great day, and it hit me. It sounds like you guys, in the midst of making this movie, actually lived our lives in so many ways you didn't even realize.
Shana:You are probably right. As you are telling these stories in the making of the movie, you are hit with these moments you never saw coming. You don't understand because you were just fine two seconds before.
Susan: Yes. That's exactly what our lives are like. We eventually get to the point where we just say, "I'm having another moment." That's what you had--a lot of those "moments." In a beautiful way you created, like you said, a family environment that was really going through this, and everybody could be together.
So what was Susan's motivation for taking the role?
Shana: She talked a lot about the obsessive relationship she ended up having with Michael Shannon, who was the guy who killed her son in the film. That was something she had never seen done in a film before. She found that to be an interesting quality for a character and a new approach she found interesting.
I think Grace (Susan Sarandon) is not always the most likeable character because she does things that aren't very nice sometimes. And I think both Susan and I have so much love in our hearts that we felt Grace could have lit someone on fire and we would not have judged her. Grace could have done anything she wanted, and I would still have so much love in my heart for her.
Susan just responded to the honesty of this woman [Grace] who wasn't struggling to be likeable the entire time. It was mainly what she was feeling that mattered--a mother whose son had just died in a car accident. How would a mother react? Would she be the same as she was before? No. So I think that was what attracted her.
Susan: That's really cool because I related to her the most. It was incredible to see the scenes between Pierce and Susan each morning--their routine of starting another day without their son, and the way Susan started her day upon awakening where it took her a second to realize she was awake and in this world, and then she would start crying. That defined the start of each day. Wendell and I were exactly like Pierce and Susan every morning. That was just one of the things she did I related to.
I think I am a very kind person and easy to get along with, yet, after Erika died--I mean there is something that comes out of you, and you are just angry, confused, hurt, in pain and so much more. Your sense of identity is gone, and you struggle with trying to find yourself in the midst of this crisis. And you are angry that people don't understand, and you don't know how to get them to understand, and you are just pissed! And you are pissed that you are forced on this journey that you know is going to change your life forever, so you are just pissed and sad and a mess. Grace was like the "every man," but she was the "every woman" representing every mother whose child dies.
Were there any particular scenes in the movie that were really meaningful for you that I can put in this article?
Shana: Yes. The limo ride back from the funeral was something I never expected would be in the movie. If you listen to the shot--they took my voice out of course-- but I was talking through the entire shot, directing and giving directions.
I thought I was going to use that shot for five or ten seconds throughout the entire movie. As I watched that shot in its entirety, I thought, "Wow! Pierce is doing some really interesting work here." And the whole time Pierce was thinking, "Why is this taking so long? Is she going to call cut?" And he's trying to sustain the shot and not understanding why I hadn't called cut yet. But while I was watching it I was thinking, "Wow, this really sets up the dynamic of this family and the disconnect in a really beautiful way." So I think the shot is over two minutes.
When I presented the rough cut to my team, they said, "Oh, Shana, people are going to walk out of the theaters. They are going to be so bored. You cannot hold the shot for that long; you have to trim it." And it's one of those things that as a first-time filmmaker you feel you need to listen to people who have more experience than you. Sometimes you just choose not to fight battles you normally would because you think, "Well, this person has 20 years' experience making movies, so I should probably listen to them," and, in this case, everybody around me was telling me to trim that shot. They were saying it shouldn't be as long as it was and asking me if I was going to play credits over it or what. I said, "No, I'm not going to play anything over it. I'm just going to hold on the shot." It was one of the times where I listened to my heart and fought that battle and fought to keep that shot in the movie when a lot of people really did not want me to at all. And I'm glad I did.
Susan: It's probably THE scene that everyone liked the most; the whole group who saw it--all of them. All of us totally related to that shot. And all of the people on our boards who haven't lost a child and who have been on the journey with us all commented on what a brilliant shot that was. It's so great that you kept it in. Thanks for fighting for it.
Is there another one?
Shana: That was my major battle.
Some people felt that the ending of the movie was too happy, too hopeful.
Susan: Are you kidding me? Really? What did they want? I mean this is what we parents do. We get up, we go through life, and we keep the hope alive. That is what the ending showed--a family with hope that you felt would make it with their love intact. And that is the truth and how it usually is.
You know, I loved the way we knew how long they had been grieving by seeing how far along Rose was in her pregnancy. That was brilliant. Because if she were not pregnant, I would have kept wondering, "How long has it been now since their son died?" I would have thought when he brought the housekeeper in to clean up the house, "Oh no! He brought the housekeeper in too soon. She can't touch anything yet," but I could see how long it had been by Rose's pregnancy and see that maybe it was time to at least clean up the house.
Wendell: There's an important movement from that complete disconnect of the limo ride at the beginning of the movie to being completely connected and hopeful and sharing your grief and memories we see at the end of the movie. That happens in real life. That's our lives. That's important for newly-bereaved parents to know that they are headed somewhere.
If you watch our "Portraits of Hope" DVD, you see the same thing. It's intense at the beginning. Parents start out describing the death of their child and what happened to them, and then all of the things that are difficult and painful as they start the process of living life without their child. Then they all move through that to something that is hopeful and redemptive. We did that on purpose in "Portraits of Hope."
Susan: That's really how life is. What we saw at the end of "The Greatest" was, "Okay, they are going to be okay. They are going to make it." There was nothing "too happy" about that. "Too happy" would have been how they suddenly, after only one year, start laughing and enjoying life and pretending that everything is back to normal. THAT would have been too happy, but that is not the message you sent to everyone at the end of this movie. You showed everyone the truth. It was the only honest ending.
What were your biggest surprises? I mean maybe one of your biggest surprises was when Pierce said okay. I mean he got the money together, right?
Shana: I think that was one of the biggest surprises. When John Bailey, who was our cinematographer, and also the person who filmed the movies "Ordinary People, "The Big Chill, and some of the best character-driven dramas of the late 70s and early 80s--when he read the script, he didn't want to shoot the movie; rather, he just wanted to meet me and say, "How did you get this movie made?" He was so surprised that a character-driven drama about grief was getting made that he wanted to meet me to say, "How was that even possible? I wanted to just meet you to ask you how this is even possible?" So I guess that was the biggest surprise--that we did get this movie made.
Our financier lost a son. I think if it weren't for him and that connection he wouldn't have felt that this was a story that was important to tell. So I think a lot of people who had been personally affected came together to make sure this movie happened, because normally it would be a very difficult movie to get made, at least concept-wise.
Susan: If I had read that script, I would have been obsessed with wanting to make sure that movie was made.
Shana: Well Pierce also said he trusted in the dialogue I had written and that he listened to the words he was saying. That was enough for him.
Wendell: That's an incredible validation of your writing.
Shana: When Pierce says things like that--that he got through a lot of the things he had to go through by focusing on the words he was saying--that is very moving to me.
Susan: It's really a gift to be able to take words and string them together in just the right way: this word goes here, and this one goes there and here. To be able to do that to effect a chance or impact another person is really special.
Shana: I'll tell you another surprise I just thought of. In the script, the first 20 pages were all Bennett and Rose meeting, what they went through, etc. It all happened in the very beginning and wasn't sprinkled throughout the movie at all. It just happened that they met at school, had a conversation, went to the hair salon, dyed his hair, went into the car, and the accident happened. That was the end of their story.
When were watching the film cut together like that, we realized that it would make a difference to sprinkle Bennett throughout the film, because that was the way of keeping his memory alive, but that was not how the script was written. It was a major change in the editing room to end up taking the first 15 minutes of the movie, chopping it all up, telling it backwards, and sprinkling it throughout the movie. But I felt that it kept his memory alive, and it also showed Rose's journey of trying to keep his memory alive.
Susan: Again, you touched on things we do. There are so many things that you talked about that are just part of our process. If you hadn't cut the beginning up, keeping Bennett's memory alive, it would have been the way we are treated by certain people after our child dies. You know, they die, and then everyone just goes on in life as if he never existed. That's what we want to avoid. We want to keep their memories alive. I mean he died, but that doesn't mean he ceases to be their child or that he should no longer be a part of the family. He is and always will be a part of the family.
Shana: And he is the center of their story. I wanted the audience to feel the connection with him and keep him alive throughout the movie. We were all grieving with them, and we were all falling in love with Bennett too, just like Rose did.
Susan: One of the things I've been doing on a scientific level is studying everything I can about grief to understand grief and what happens in the brain, because not only can we help parents on a psychological and emotional level with their grief, but I'm hoping we can also help them to understand what is happening in their brains as they grieve, why they need to grieve, and how they can get to that place where there is at least some peace.
One of the reasons we offer so many different avenues on our website you can choose from--you can listen to music and see the words, you can chat with people from all over the world, you can read letters that people write to us, you can look at the memory pages and all of the pictures, you can be in there for hours and hours--is because what works for one doesn't necessarily work for another. What were the most difficult scenes and why?
Shana: One of the most difficult scenes was when Susan confronts Mike Shannon in the prison after he has woken up. She wants to find out what those moments for her son were like.
Susan: Mike Shannon is the one who hits the son's car?
Shana: Yes. Mike Shannon was also nominated for an Academy Award last year for his role in the movie "Revolutionary Road."
So it was one of the most difficult scenes because Susan and I talked a lot about that scene, and we knew it was going to be one of the toughest days for her. After we shot it, it was so taxing on her, and she put herself so wholeheartedly into it, that she actually got physically sick and threw up. We shot with two cameras so we could go for it emotionally over and over again. When you are making a movie, you need to do the scene three or four times and do it over and over again.
Susan: Bless her heart. I bet she went home every day and kissed her kids.
You said there were a lot of scenes that were edited out?
Shana: There was this one scene with Pierce. Remember that Pierce in the movie was a Mathematician. We had this scene in the movie originally where he went out to the accident site to measure the tire marks and try to figure out how many miles per hour his son was driving because he wanted to understand the numbers of it all. That is how it was going to make sense to him.
Susan: I know fathers who have done that. They go to the accident scene, they look at the skid marks, they try to figure out the angles, they sit and work it out logically in their minds the ways the cars could have gone, etc. That truly happens.
Shana: That was one scene we took out. By the way, we are including the edited scenes in the DVD.
There was another scene where Susan had two of her friends over, and one of them had a daughter that was in Bennett's class who was also an ex-girlfriend of Bennett's. It's a scene where Susan's friends are very uncomfortable with what she's going through, and all she wants to talk about is Bennett and this video of the accident that she tells them she's been watching. They are looking at her like she's insane, and they are telling her that she needs to turn off the video and move on with her life. One of the mothers is really uncomfortable and wants to leave immediately.
And there was a scene with Ryan and his friends where his friends are all getting stoned. Ryan came over there to have a meaningful conversation with them about his brother's death and what he is going through, and they are just being boys and don't know how to act around him anymore. He ends up being really lonely in the scene when he realizes this about his friends. It was hard to choose what to leave in and take out because the movie was two-and-a-half hours long, and I knew I had to trim some of it.
There was another scene where Ashley, Ryan's girlfriend that he met at the grief group, is at the grief group, and she tells this made-up story about her sister dying. That scene showed how incredibly lonely she was to have made up a story about losing a sister so she could fit in.
That scene touched upon something that I felt when I went to some of the support groups where there was such an acceptance of you when you are in that group that you feel like you are a part of something. There is so much love in that room during those meetings that, for someone who is really lonely and needs that kind of interaction, it's like coming into a ready-made family. I felt very loved, safe, and as if I were in a place where there was great solace just being there, so I tried to touch on that type of experience where an outsider might want to be a part of something like that just because of the extra love you get.
Susan: Ummmm. Well, not really having lost someone would be the "ideal" way to be in a grief support group, wouldn't it? Then you wouldn't have the actual loss or pain to actually go through. If you ask somebody who is in there because they have to be, they would say that they would rather not be there and be anywhere else in the world and have their loved one back. So that's the irony in what you did there.
I talked earlier about studying grief from the brain's perspective. In my research of how grief works and what it does to us I discovered that they are doing a lot of work with fMRIs now and are able to do all kinds of amazing things.
Wendell: It's opened a whole new frontier of science where they are actually looking at the brain and understand the brain for the first time by watching it work. There are people who are saying that after the agricultural revolution, the industrial revolution, and the technology-information revolution, the new revolution we are going into is the neuro revolution by understanding our brains and how they work.
Susan: And it's going to have a big impact on grief. Here's one example. They have discovered by studying MRIs and studying the question, "Why do we have to grieve?" that, when a person grieves, the brain actually starts mapping new metabolic pathways. So every time I think about Erika dying and go through my own processes of grieving, my brain is going, "Well, let's go this way."
We believe now that you actually can survive these worst of all tragedies by this process. Because otherwise you are just going to keep going down that same route. It totally makes sense if you look at what's going on in the brain. So when I share this with other parents, not only does it give them permission to just "be," but also gives them an understanding of the process.
Shana: That's interesting. It's amazing what we are beginning to see using MRIs.
Susan: What was it like for you the first time you saw "The Greatest" with an audience?
Shana: I was at Sundance and my producer said, "Everybody in this audience is sick or something," because she noticed everyone was sniffing a lot. We were worried that we were sitting in the audience and might all get sick. When the lights came up, everyone was crying. It was pretty amazing. We got a wonderful standing ovation! It was incredibly emotional when I went up on that stage afterward.
What is the most emotional and gratifying for me is when people who have lost someone in their lives tell me that this was accurate and truthful. That is what means the most to me.
Susan: We couldn't think of a better way to see this movie than with a whole bunch of like people and like hearts.
Now that you have completed the movie, is there anything you would have done differently?
Shana: I'm my own worst critic. Now that we've talked about those deleted scenes, I am thinking, "Ooooh, those were important scenes. Maybe I should have included them in the movie. I should have fought to make it longer," because you really want to capture everyone's experience.
Susan: Oh, but you did.
Shana: Like I said, I could have made seven more stories.
Susan: This is a big subject. How long is the movie?
Shana: It's 95 minutes. We should have the director's cut and put the whole thing on it.
Wendell: I just want you to know that the way you put the entire movie together is a whole experience. No one ever gets it right the way you did. No one ever has.
Susan: What did you learn that might be helpful to people who know someone who has lost a child?
Shana: I learned the importance of reaching out to people for help. I learned that people do grieve differently, and when I was looking into Grace's and Allen's marriage, there was no question at any point that they loved each other. I knew they loved each other and they would survive this, even though there were moments of total disconnect. That disconnect was there because they were constantly in different places in their grief. I wanted to dispel this notion that you have to be grieving with somebody and going through the exact same thing with someone, which I think is impossible to do. I hope that people might have some insight into that and not feel that pressure to grieve in what others deem is the "right" way.
Susan: What do you want people to walk away with after having seen "The Greatest?"
Shana: I want them to walk away with hope. That is why I wrote this ending. It's a survival story. I want people to walk away feeling hopeful.
Susan: And my last question: What are you working on now?
Shana: I just finished directing a movie for Sony called "Love Don't Let Me Down" with Gwyneth Paltrow and Tim McGraw about country music, and it's something I'm really proud of.
Susan: Okay, is there anything that I didn't ask you?
Shana: No. You are the best interview I've ever had. It's the most in-depth and best interview I've ever had.
Susan: It's been an honor to meet you, share breakfast with you, and hear these amazing stories about you, your own journey, and how you've taken all of that and turned it into something that will stay alive forever, helping people who need to understand their own journeys. Thank you for all that you have done for those of us forced upon this lifelong journey of rebuilding our lives without our children. I can only imagine how proud your own parents are of you.
Shana: Thank you, Susan. It's also been an honor for me to spend this time with you and see how you have turned your pain of losing your beautiful daughter into something that helps others who have to make the same journey. I know Erika is very proud of you.